Jo Worsfold · Australian healer
Intuitive · Reiki Master-Teacher · Energy Healer · Spirit Communicator · Author
Hi! I'm Jo. My spiritual journey began in 2015 when, on a whim, I signed up for a Reiki 1 weekend retreat. I began healing myself using traditional Reiki techniques and very soon, I was providing healings for friends and family. Through word of mouth, my little healing business began to grow – so much so that I sold my successful bookkeeping business to focus on energy healing and helping others.
I am so lucky to be able to work from home, because I am also a mother to two teenage children, adoptive mum to two labradoodles, and wife of a very clever mechanic / handyman husband. So life is busy! But it's never too busy that I can't make time for myself and my passions. Life is about balance, and I'm so happy to say I've found my own personal equilibrium (which, by the way, is the name of my book I wrote and published in 2019 – do you like what I did there?!).
I could never have found this life balance without spirituality and energy healing, and now it's your turn!
If you're looking for a genuine and down-to-earth Australian healer, you've come to the right place. Let me help you find your own equilibrium – that balance of life and love, the highs and lows, and everything in between. Let me help you acknowledge and learn the lessons, expand your own consciousness, tap into that happiness inside you (it's there!).
My Approach & Values
ALWAYS INTUITIVE · I have a very eclectic, unique healing style that is 99% intuitive and boy, does it pack a punch!
AUTHENTICITY · I have built my entire business around maximum authenticity. The day that I stop being authentic and REAL, is the day I stop doing this work.
MINIMAL FLUFF · I'm not into keeping up appearances and jumping on trendy bandwagons. With me, spirituality comes with a good dose of reality.
DEPENDABILITY · I know what it's like to need someone to lean on in tough times. If you are ready to put the work in to illuminate your life, I've got you.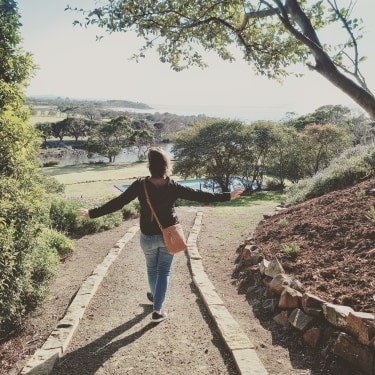 5 Fun Facts About Me!
I am a volunteer wildlife rescuer and am hoping to do my wildlife rehabilitator training in 2021.
My favourite drink is a hot, strong cup of English Breakfast tea (and coming in a close second is a vodka + soda).
I am a little obsessed with vampires and vikings.
My celebrity free pass would be Sam Heughan – I have a thing for smooth accents and dreamy eyes. And yes, I'm on the Outlander bandwagon.
I talk to my plants, and they talk back. We have a wonderful relationship!
Frequently Asked Questions
Can I book a 1:1 with you?
In-person healings are not available right now sorry. But you can book yourself a distance healing session any time! Distance healings are extremely effective, with clients seeing immediate and ongoing results. These sessions are not done online, they are instead done remotely without any physical interaction and you are then emailed comprehensive notes at the end of the session. You can find more information on these healings here.
Can I interview you for my blog, podcast or publication?
Absolutely! I am always open to an invitation to talk anything and everything about energy, spirituality, my story, and the lessons I've learned along the way. Please send me a message via my contact page with some info about your service and I'll be in touch. 
Do I need any qualifications to be able to learn to heal myself and/or explore my spirituality?
This is a massive, resounding NO! You do not need any qualifications (although, they are an extremely helpful tool to get you on your way) nor do you need to already have a gift of some sort. You can start from wherever you are, in whatever stage in your life you are currently in, with whatever means you have available to you. Don't get me wrong – I've got nothing against studying spiritual topics (I've done it myself many times!) but they are not ESSENTIAL.
Do distance healings and 'cold' readings really work?
Yes and yes! Energy is not physical matter, so you don't need to be in physical contact with a person to send them healing. As long as the intention is pure and true, it works. I wouldn't have an online business if it didn't! And what some people refer to as 'cold readings' are referring to a psychic reading done over a distance. For me, these also do honestly work! I have done hundreds of readings and channelled spiritual guidance for people all over the world.
Do I need to find myself a guru to explore my spirituality / faith?
No. I personally have an issue with 'gurus' because I feel the intention of this phrase is to put someone on a pedestal who, at the end of the day, is just another human being. I have a deep respect of spiritual leaders who work from a place of love, not ego, because they are helping so many people. But as far as a guru goes, my advice to you is this: find people you trust, who you feel drawn to – then learn from them, use their tools and offerings to help you, but never ever forget that YOU are in charge of your own health and happiness. Don't hand your control over to someone else. You got this!
Do you offer Reiki 1, 2 or Master training?
I do have my Usui Reiki Master-Teacher qualifications and did teach for a short time a couple of years ago, however my main focus is now developing my own unique healing modality. I now teach everyday people how to tap into their own unique healing ability and the resources within this website and, more extensively, within My Luma Nova is how I do that.
Join me over at MY LUMA·NOVA today!
A healing library at your fingertips
New content released every month, keeping you on track with your healing journey.
Live meditation + Reiki classes
Relax and heal, from the comfort of your own home.
An active, supportive community
Chat with like-minded, everyday people who are also navigating this crazy beautiful life.
Short courses & mentoring sessions
I'll teach you everything I know and support you while you explore how spirituality fits into your life.